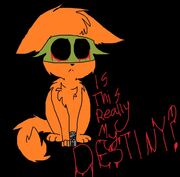 Lava
Section heading
Edit
Lava is a ginger she-cat. She is blind and wears a blindfold with eyeholes cut out. She has one mechanic paw that replaced her broken one. She was flawless until she was turned into what she is now.
Section heading
Edit
Lava's uncle is Trout, and her father is Leap. Picture done by @IcelandicWerewolf on Wattpad.
Ad blocker interference detected!
Wikia is a free-to-use site that makes money from advertising. We have a modified experience for viewers using ad blockers

Wikia is not accessible if you've made further modifications. Remove the custom ad blocker rule(s) and the page will load as expected.